Supernatural Somatic Markers: The Effect Of Belief And Analytic Thinking On Physiological Responses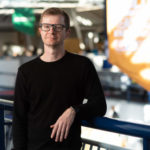 Malcolm
Scroll down to view this video
Malcolm B. Schofield1, David Sheffield1, and Ian S. Baker1
1University of Derby Kedleston Road Derby, UK
Introduction: The interplay between cognitive processes and implicit supernatural belief may manifest itself as a physiological response in the form of somatic markers. Somatic Marker Hypothesis (SMH) (Damasio, 1994) refers to the changes in the autonomic nervous system brought on by objects or events in a person's life. A particular representation can trigger this, be it an object, event or idea. The markers themselves can be 'good' or 'bad', depending on the previous association. Therefore, this study aimed to examine implicit supernatural belief and its effect on explicit supernatural belief by examining the evidence for implicit supernatural belief using context and physiological measures.
Method: Forty-four participants were recruited from the staff and student population of the University of Derby via an opportunity sample. The measures were as follows: 'Belief in the Supernatural Scale' (Schofield et al, 2018) to measure belief, MCQ 30 (Wells & Cartwright-Hatton, 2004) to measure unhelpful metacognition, Cognitive Reflection Test – Long (Primi, et al., 2015) to measure thinking style, and the Implicit Association Test (Sriram & Greenwald, 2009) to measure implicit association with belief. Heart Rate (HR) and Systolic Blood Pressure (SBP) was measured using a continuous, non-invasive cardiovascular Finometer (Finapres Medical System, Amsterdam, Netherlands). Skin Conductance (SC) was measured. The study was split into two parts. The first was conducted online, the second in a laboratory setting.
Results: Path Analysis showed a change in skin conductance between cognitively complex and cognitively simple tasks was positively predicted by mental and psychic phenomena, psychokinesis, and common paranormal perceptions. Psychokinesis is also negatively predicted by (lack of) cognitive confidence and positively predicted by negative beliefs about uncontrollability and danger. Supernatural entities are positively predicted by the need to control thoughts.
Discussion: The findings indicate a somatic marker when looking at people who believe in the paranormal. Further, this marker is activated when a paranormal believer is faced with an analytically complex task. This is in line with the Somatic Marker Hypothesis (Damasio, 1994), which refers to the changes in the autonomic nervous system brought on by objects or events in a person's life. This marker is based on association and indicates that someone who believes in the paranormal associates thinking analytically as a threat or a 'bad' thing. Whether this has to do with analytical thoughts blocking paranormal belief and experience remains to be seen.
Damasio, A. R. (1994). Descartes' Error: Emotion Reason and the Human Brain. Putnum.
Primi, C., Morsanyi, K., Chiesi, F., Donati, M. A., & Hamilton, J. (2015). The Development and Testing of a New Version of the Cognitive Reflection Test Applying Item Response Theory (IRT). Journal of Behavioral Decision Making, n/a-n/a. https://doi.org/10.1002/bdm.1883
Schofield, M. B., Baker, I. S., Staples, P., & Sheffield., D. (2018). Creation and Validation of the Belief in the Supernatural Scale. The Journal of Parapsychology;, 82(1), 41–64. https://doi.org/10.30891/jopar.2018.01.04
Sriram, N., & Greenwald, A. G. (2009). The Brief Implicit Association Test. Experimental Psychology, 56(4), 283–294. https://doi.org/10.1027/1618-3169.56.4.283
Wells, A., & Cartwright-Hatton, S. (2004). A short form of the metacognitions questionnaire: Properties of the MCQ-30. Behaviour Research and Therapy, 42(4), 385–396. https://doi.org/10.1016/S0005-7967(03)00147-5
Supernatural Somatic Markers: The Effect Of Belief And Analytic Thinking On Physiological Responses